10% Discount on selected Gift Baskets
It's time to order your Christmas Gifts. Don't miss a 10% discount on selected baskets or create your own Christmas gift box according to your preferences and budget.
Create your own Algarve Christmas Basket
Add a personal touch to your Christmas! Choose a theme and personalize the contents of your gift basket with the authentic flavors of the Algarve. The art of gifting is in your hands.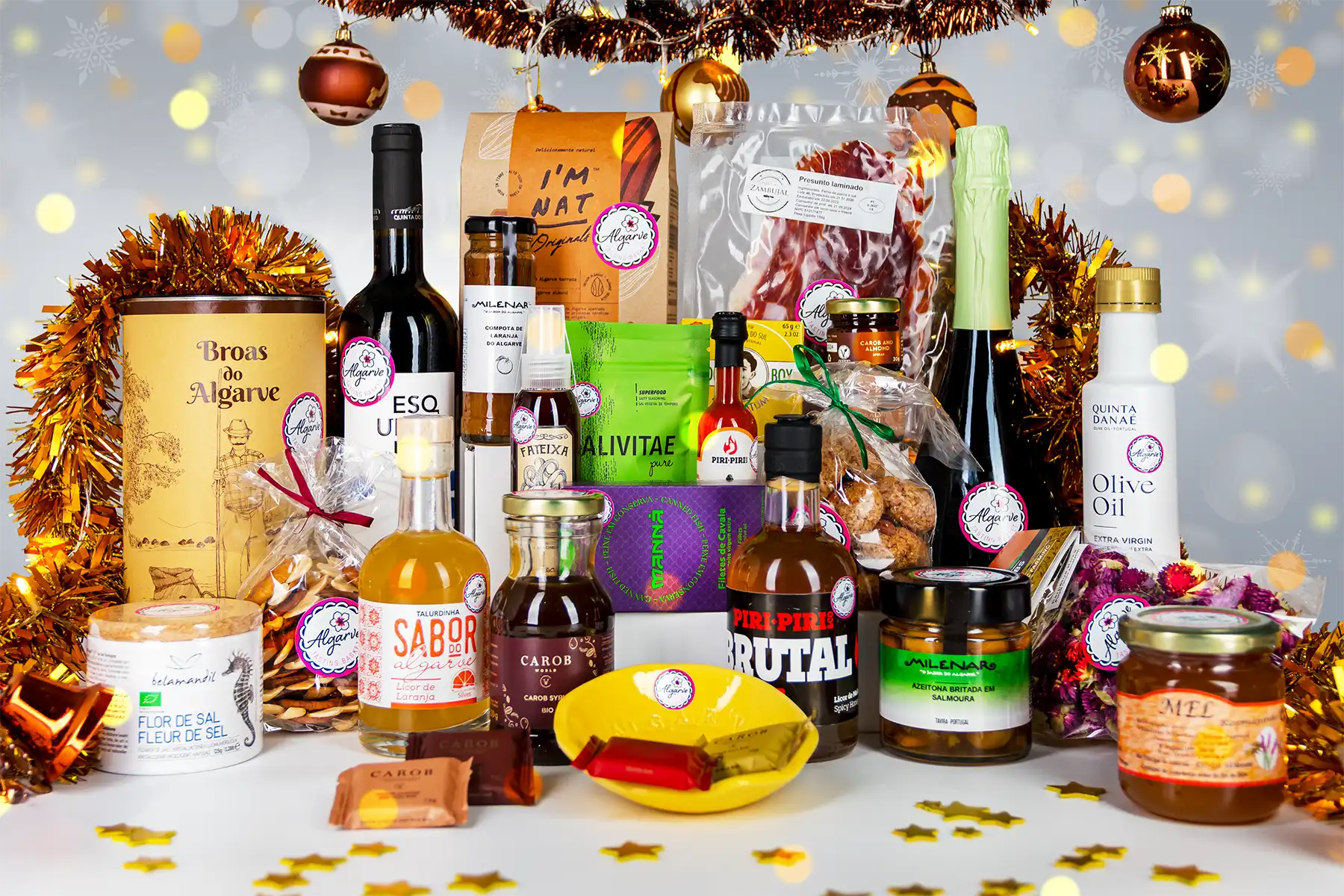 Don't miss our range of Wellness products
Offer original products, handmade in the Algarve, to provide moments of well-being for the body and soul.
Make your gift a unique experience!
Discover the beautiful new items in Crafts and Accessories
We aim to support artisans in the region by showcasing their art and passion. You can also help promote Algarve culture and innovation by adding some of these souvenirs to your basket.

Genuine
The products presented are all from the Algarve, in their raw material and preparation.
Organic
No chemicals were used in the production of the products and the strict minimum of preservatives for some.

sustainable
Local production in a sustainable way using raw material from the region with minimal impact on nature.
HandMade
Handcrafted production methods, without using large industrial equipment but with hygiene and safety.
Recyclable
We use recyclable or reused packaging and fillers to protect your parcels.
Shipping
We prepare and send your order within two working days. You will receive updated information about the delivery date
We don't want to sell you just one more product. We want to offer you a unique, differentiated experience. Therefore, we share with you the tradition, the fruits of our land, the knowledge of our people, the flavors of our raw materials and most characteristic ingredients. We want you to taste them gradually, discovering the nuances of each flavor, each smell and texture, allowing them to invade your senses and transport you on an authentic journey to the Algarve.
Discover the new products that make up our delicious baskets
Genuine products from the Algarve, to enjoy in Portugal or abroad.
Our Themed Gift Baskets
All of our baskets are now customizable with different options and always prepared to provide the best experiences with irresistible flavors and aromas.